Loctite PC 5070 - 5cm x 180cm (Pipe Rep Kit)
Loctite PC 5070 - 5cm x 180cm (Pipe Rep Kit)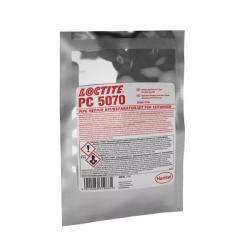 Product description:
LOCTITE PC 5070 is recommended for reliable, temporary repairs of metal, plastic and composite pipes. It includes a urethane impregnated fiberglass tape, designed to make on-site pipe repairs in just minutes without the use of tools or specially trained personnel. The urethane impregnated fiberglass tape is activated by water and applied by simply wrapping it around the damaged area. Material cures in approximately 30 minutes to a durable finish. Also included in the LOCTITE® PC 5070 is a one-use size of
LOCTITE EA 3463
for filling holes and cracks prior to the application of the fiberglass tape. Used in combination, the fiberglass tape and epoxy stick provide a reliable and fast pipe repair system. Typical applications include sealing cracked castings, tanks, vessels, valves and pipes. It also repairs pipe joints and reinforces tanks, vessels, valves, joints and elbows. LOCTITE PC 5070 should not be used on a pipeline that is carrying caustic, hazardous or otherwise harmful materials. This product is typically used in applications with an operating range of -29 °C to +121 °C. Further information on the product can be obtained from the local technical department:
biuro@woronko-loctite.plSteps to achieve the best adhesive results:Read thoroughly before opening package
1. Turn off pressure in pipeline and dry the area to be repaired.
2. For best results, clean and prep the area thoroughly as follows: abrade the pipe with sandpaper or file to achievea rough profile and clean the surface with an oil-free solvent. For maximum adhesion, the prepared area should be approximately 3 to 4 times the size of the damaged area.
3. To halt low pressure leaks or fill cracks and voids, use the Loctite EA 3463 epoxy stick included in the kit. The mechanical bond that is created in this step is critical to the performance of the repair system. Remove the wrapping from the Loctite EA 3463 then simply mix and knead the epoxy stick until it is uniform in color. Press the mixed epoxy firmly into the crack, hole or void.
4. While wearing gloves, open foil pouch and quickly activate the urethane impregnated fiberglass tape by soaking in room temperature water for 20 seconds before applying. Please note that after pouch is opened, the tape will start to set when exposed to moisture in the atmosphere; therefore, it is important to work as quickly as possible.
5. Apply the urethane impregnated fiberglass tape by firmly wrapping it around the pipe, overlapping itself and completely covering the damaged area. The pipe wrap covering must extend 5 to 10 cm beyond the repaired section of pipe. For a firm wrap, allow the tape to stretch or extend slightly as it is wrapped. Wrap the tape a minimum of 4 times around the pipe or build up 3-4 times the wall thickness of the pipe, whichever is greater. With gloved hands, keep working the urethane back into the tape while molding and pressing the tape until it has lost its initial tackiness.
6. The urethane impregnated fiberglass tape will be fully hardened in approximately 30 minutes, and the pipe can be returned to service within an hour.
Storage:
Store product in the unopened container in a dry location. Storage information may be indicated on the product container labeling.Optimal Storage: 8 °C to 21 °C. Storage below 8 °C or greater than 28 °C can adversely affect product properties. Material removed from containers may be contaminated during use. Do not return product to the original container. Henkel Corporation cannot assume responsibility for product which has been contaminated or stored under conditions other than those previously indicated.
Parameters:
-Appearance: shiny yellow tape
- Tensile strength, ASTM 638-111, N/mm² : 41,4
- Hardness, Shore'a D : 84
Working Time at 25 °C, minutes : 3 to 4
Cure Time at 25 °C, minutes : 30
Pełna informacja techniczna znajduje się w karcie technicznej produktu.