Loctite PC 7218 -1 kg (epoxy resin with coarse ceramic filler, up to 120 °C)
Loctite PC 7218 -1 kg (epoxy resin with coarse ceramic filler, up to 120 °C)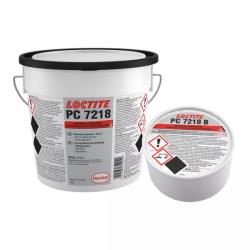 Product description:
Loctite 7218 Nordbak Wearing Compound is a two-part Ceramic filled epoxy paste designed to protect, rebuild, and repair high wear areas of processing equipment. Temperature range –30° to +120°C.
Advantages:
· Ceramic -filled for outstanding resistance to abrasion
· Renews worn surfaces fast - reduces downtime
· Extends wear life-resists sliding abrasive wear and eliminates costly wear part inventory
· Non sag - provides abrasion resistance on over-head and vertical surfaces
TYPICAL APPLICATIONS
· Cyclone and separator bodies
· Dust collectors and exhausters
· Pump liners and impellers
· Fan blades and housings
· Chutes and hoppers
· Elbows and transition points
Further information on the product can be obtained from the local technical department:
biuro@woronko-loctite.plSteps to achieve the best adhesive results:Surface Preparation
Proper surface preparation is critical to the long-term performance of this product. The exact requirements vary with the severity of the application, expected service life, and initial substrate conditions.
· Thoroughly clean and abrade surfaces (grit blast if possible), finally clean with
LOCTITE SF 7063
. The more thorough the degree of surface preparation the better the performance of the application.
· On vertical or overhead areas, tack welding expanded metal mesh onto the metal substrate is recommended prior to application of 7218 Wearing Compound.
Mixing
· Measure 2 parts resin to 1 part hardener by volume or weight, transfer entire kit onto a clean and dry mixing surface and mix together until uniform in colour.
· If resin and hardener temperatures are 15°C or below, preheat resin only to about 30°C but not to exceed 40°C
Application
· Apply fully mixed material to the prepared surface.
· Initially apply as a thin film to "wet" out the surface.
· Build up to desired thickness (minimum 6mm), avoid air entrapment
· At 25°C the working time is 30 minutes and functional cure time is 7 hours.
· Caution! Use an approved, positive-pressure, suppliedair respirator when welding or torch cutting near cured compound. DO NOT use open flame on compound.
Storage:
Product shall be ideally stored in a cool, dry location in unopened containers at a temperature between 8 °C to 28 °C unless otherwise labelled. Optimal storage is at the lower half of this temperature range. To prevent contamination of unused product, do not return any material to its original container. For further specific shelf life information, contact Loctite UK Technical Service.
Parameters:
Open time, minutes : 30

Fixture time, hours : 7

TYPICAL PROPERTIES OF CURED MATERIAL :

Compressive strength, ASTM D695, N/mm² : 110,3

Hardness, ASTM D-2240, Shore D : 90

Full technical information can be found in the technical data sheet.