Teroson VR 610 - 400 ml (loosening agent)
Teroson VR 610 - 400 ml (loosening agent)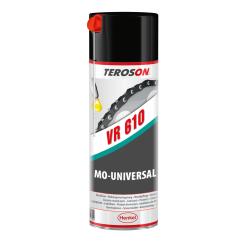 Product description:
TEROSON VR 610 is a penetrating oil based on petroleum and oils, which combines various properties. It demonstrates very good penetration and is suitable for loosening rusted screws. The material is also capable of undermining humidity and can, therefore, be used as a contact spray, e.g. on the ignition distributor. The sprayed metal parts are also provided with temporary corrosion protection. Last not least it reduces friction between metal parts and thus eliminates squeaking on all moving parts. Further information on the product can be obtained from your local technical department:
biuro@woronko-loctite.plDirections for use:
1. Shake the container with the preparation before use.
2. Spraying is done by pressing the spray tip. It should be remembered that the spray tip tube is directed to the right element.
3. Mounted ball valve allows MO Universal to be sprayed in every container position.
4. For loosening rusty threaded connections, spray onto the right place. Wait about 5 minutes for the preparation to penetrate into small gaps. After this time, the threaded connection can be slightly disconnected.
5. As a contact preparation MO Universal is applied to the ignition system by short spraying on the contacts of high-voltage wires. By displacing the water makes it easier to start the engine. It is important that the engine is in a cold state. MO Universal has a relatively high ignition point (about 60 ° C), but it can not be sprayed on hot spots.
6. To reduce the friction in the insert connections, disassembled components, spray MO Universal and reassemble, for example, hinges.
Storage:
Frost sensitive : no
Recommended storage temperature : 10 to 25 °C
Shelf life : 12 months
Never heat to above 50 °C !!

Parameters:

Color : yellow
Smell : kerosene
Consistency : liquid
Density : 0,84 g/cm³


Full technical information can be found in the product technical sheet.