Teroson MS 9320 OC - 300 ml (spray mass, ocher)/Terostat MS 9320
Teroson MS 9320 OC - 300 ml (spray mass, ocher)/Terostat MS 9320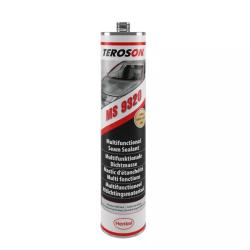 Product description:
TEROSON MS 9320 Multi-functional sealant "4 in 1" is a sprayable sealant based on MS -Polymer, which cures by reaction with humidity to an elastic, abrasion resistant product.The skin formation and curing times are dependent on humidity and temperature, and the curing time also depends on joint depth.By increasing the temperature and humidity, the reaction time can be reduced; low temperatures as well as low humidity retard the process. Further information on the product can be obtained from your local technical department:
biuro@woronko-loctite.plSteps to achieve the best adhesive results:Pre-Treatment:
The substrates must be clean, dry and grease free. For pretreatment TEROSON FL+ is suitable. TEROSON MS 9320 Multi-functional sealant "4 in 1" is increased by roughening the contact surface with abrasive paper or textiles.
Application:
TEROSON MS 9320 should be applied using a
Telescopic Multi-Press gun
. With this gun the material can be applied either as a bead or by spraying with a dual-circuit compressed air system. It is both sprayable and brushable, allowing seam structures and brush textures to be created. Seams applied with TEROSON MS 9320 can be overpsprayed after only 15-30 minutes. If earlier paintspraying is required, TEROSON MS 9120 can be used, which is highly compatible with TEROSON MS 9320 Mulit-functional sealant "4 in 1". The gun can be adjusted to allow quick and easy reaction of nearly all OEM-supplied textures. By varying the spraying the distance is also possible to control the seam width and edges. Handling and setting details can be found in the instruction provided with the gun.
Cleaning:
For cleaning application equipment contaminated with uncured TEROSON MS 9320 we recommend the use ofcleaner TEROSON FL+. Cured material can only be removed mechanically.
Painting:
TEROSON MS 9320 can be painted wet-on-wet with car repair paints. Curing is not hindered by an immediate painting but retarded. Painting should be done within 3 days after application of the sealant. Beginning with the fourth day, TEROSON 150 P Primer should be applied before painting to get an optimum adhesion. Accelerated drying after painting in a drying oven or under IR by a temperature of 60 °C is possible.
Storage:
Frost-Sensitive : No
Recommended Storage Temperature, °C : 10 to 25
Shelf-life (in unopened original packaging) :12 months

Parameters:

Colour : ocher
Odour : characteristic
Density, g/cm³ : approx. 1.5
Consistency : paste
Sag resistance : very good
Curing mechanism : humidity curing
Skin formation time, min* : approx. 10
Cure rate, mm/24 hrs* : approx. 3
Shore-A-hardness (DIN 53505) : approx. 60
Application temperature, °C : 15 to 35

Full technical information can be found in the technical data sheet.