Teroson MS 660 Clear-310ml (adhesive and sealing mass, colorless)
Teroson MS 660 Clear-310ml (adhesive and sealing mass, colorless)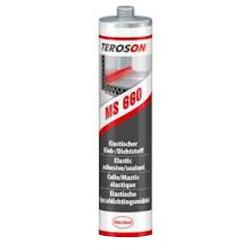 Product description:
TEROSON MS 660 is a gun-grade, one-component adhesive/sealant based on silane modified polymers, which cures by reaction withmoisture to an elastic product. The skin formation and curing times are dependent on humidity and temperature, and the curing time alsodepends on joint depth. By increasing the temperature and moisture these times can be reduced;low temperature as well as low moistureretard the process. TEROSON MS 660 is free of solvents, isocyanates, silicones and PVC. It demonstrates low shrinkage. Theadhesive/sealant also demonstrates good UV and weather resistance and can therefore be used for interior and exterior applications. Further information on the product can be obtained from your local technical department: biuro@woronko-loctite.pl

Steps to achieve the best adhesive results:
Pre-Treatment
The substrates must be clean, dry, oil- and grease free.

Application
Application from 310 ml cartridges is made with the Teroson Hand or Air Pressure Pistols. In the case of compressed air application apressure of 2 to 3 bar is required. Low material temperatures of the sealant will lead to an increase of viscosity, resulting in a lowerextrusion rate. This can be avoided by bringing the sealant up to room temperature prior to application. TEROSON MS 660 can alsobe applied from hobbocks or drums with high pressure pumps with follower plates. See separate application directions of Teroson MS products in hobbocks and drums.

Cleaning
For cleaning application equipment contaminated with uncured TEROSON MS 660 we recommend the use ofcleaners + diluents Teroson A, D or FL.

Storage:

Frost-Sensitive : No
Recommended Storage Temperature, °C : 10 to 25
Shelf-life (in unopened original packaging), months 12

Parameters:

Product type : Adhesive/Sealant
Components : One-component
Cure : Humidity
Application : Assembly
Appearance : Transparent
Consistency : Pasty, Thixotropic
Odor : Characteristic
Density, g/cm³ : approx. 1,1
Skin formation time, min* : approx. 4
Cured time, mm/24 hrs. : approx. 2
Shore-A Hardness (ISO 868, durometer A): approx. 40
Tensile strength (accord to ISO 37), MPa: approx. 2,0

Full technical information can be found in the technical data sheet.