Loctite PC 7226 - 1 kg (epoxy resin with ceramic filler, smooth)
Loctite PC 7226 - 1 kg (epoxy resin with ceramic filler, smooth)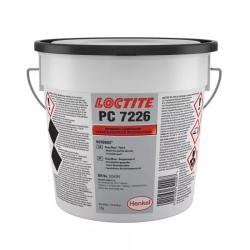 Product description:
Loctite 7226 Nordbak Pneu-Wear is a small ceramic bead filled two-part epoxy putty, designed to protect equipment from fine particle abrasion. Temperature range –30° C to +120 °C.

Advantages:
· Small ceramic bead filled – resists fine particle abrasion.
· Prolongs equipment life
· Easy to mix and use – renews worn surfaces fast, reduces downtime
· Non sag – provides abrasion resistance on over-head and vertical surfaces

TYPICAL APPLICATIONS
· Providing protective lining in pneumatic conveying systems
· Repairing and providing abrasion resistance:
- in elbows
- in slurry pumps
- in hoppers
- in cyclones
- In dust collectors

Further information on the product can be obtained from the local technical department: biuro@woronko-loctite.pl

Steps to achieve the best adhesive results:
Surface Preparation
Proper surface preparation is critical to the long-term performance of this product. The exact requirements vary with the severity of the application, expected service life, and initial substrate conditions.
1. Clean, dry and abrade application surface. The more thorough the degree of surface preparation the better the performance of the application. If possible, it is recommended that the surface be grit blasted to a Near White Metal (SSPC-SP10/NACE No. 2) Standard. For less severe applications roughening the surface with hand tools is suitable.
2. Solvent cleaning with a residue-free solvent is recommended as the final step to aid in adhesion.

Mixing
1. Material temperature should be between 20 °C to 30 °C.
2. Add hardener contents to resin. Mix material vigorously until uniform in color. Be sure to mix along the bottom and sides of mixing container. Mix three to five minutes.

Application Method

1. Apply fully mixed material to the prepared surface.

Storage:
Store product in the unopened container in a dry location. Material removed from containers may be contaminated during use. Do not return liquid to original container. Storage information may be indicated on the product container labeling. Optimal Storage: 8 °C to 21 °C. Storage below 8 °C or greater than 28 °C can adversely affect product properties. Henkel cannot assume responsibility for product which has been contaminated or stored under conditions other than those recommended.

Parameters:

Open time, minutes : 30
Fixture time, hours : 6
Compressive strength, ASTM D695, N/mm² : 103.4
Shear strength, ASTM D1002, N/mm² (at the gap 0,125 mm, acid-etched aluminum) : 34,5
Hardness, ASTM D-2240, Shore D : 85

Full technical information can be found in the technical data sheet.