Loctite Double-Bubble - 3 g (epoxy adhesive)
Loctite Double-Bubble - 3 g (epoxy adhesive)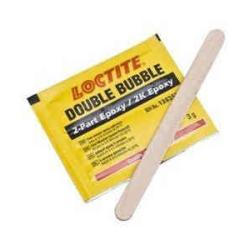 Product description:
LOCTITE DOUBLE BUBBLE will bond to a wide variety of materials (wood, metal, plastic, ceramic) and cures rapidly to give handling strength in approximately 5 minutes. Packed into a handy sachet and supplied complete with a mixing stick and pallet, this product is suitable for the rapid assembly of small components or for fast and effective repair work. Further information on the product can be obtained from your local technical department:
biuro@woronko-loctite.pl
Steps to achieve the best adhesive results:
1. Bond areas should be clean and free from grease. Clean all surfaces with a
LOCTITE SF 7063
cleaning solvent and allow to dry.
2. For maximum strength, surface abrasion is recommended. A fine to medium grit emery cloth or sandpaper is best. Wash after abrading.
3. Pour resin and hardener from pouches onto the provided mixing palette.
4. Mix resin and hardener on palette with mixing stick until the product has a uniform color. The adhesive is packaged in a pre-measured kit. This ensures consistent performance since resin and hardener are always properly measured.
5. For maximum bond strength, apply adhesive evenly to both surfaces to be joined.
6. Application to the substrates should be made within 3 minutes. Larger quantities and/or higher temperatures will reduce this working time.
7. Join the adhesive coated surfaces and allow to cure. Higher temperatures will speed up curing.
8. Keep assembled parts from moving during cure. The bond should be allowed to develop full strength before subjecting to any service load.
9. Excessive uncured adhesive can be cleaned up with ketone type solvents.
Storage:
Store product in the unopened container in a dry location. Storage information may be indicated on the product container labeling.
Optimal Storage: 8 °C to 21 °C. Storage below 8 °C or greater than 28 °C can adversely affect product properties.
Material removed from containers may be contaminated during use. Do not return product to the original container.
Henkel Corporation cannot assume responsibility for product which has been contaminated or stored under conditions other than those previously indicated.
Parameters:
Resin:
Specific gravity (25 °C) : 1,2
Viscosity, mPa·s (cP) : 60,000
Hardener:
Specific gravity (25 °C) : 1,13
Viscosity, mPa·s (cP) : 12,000
Mixed:
Specific gravity (25 °C) : 1,16
Viscosity, mPa·s (cP) : 35,000
Shear Strength (After 1 week at 22°C)
Mild steel N/mm² : 11
Grit blasted mild steel (GBMS) N/mm² : 18
Stainless steel N/mm² : 9,6
Aluminum N/mm² : 4,9
Aluminum (gritblasted) N/mm² : 13
Polycarbonate N/mm² : 4,3
PVC N/mm² : 1,2
Epoxyglass N/mm² : 7.4
Zinc dichromate N/mm² : 7,3
Full technical information can be found in the technical data sheet.