Loctite 518-50ml (metal flange sealant)
Loctite 518-50ml (metal flange sealant)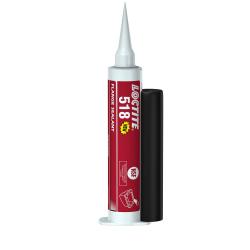 Product description:
LOCTITE 518 is a single component, medium strength, anaerobic sealant which cures when confined in the absenceof air between close fitting metal surfaces. Typical applications include sealing close fitting joints between rigid metal faces and flanges. Provides resistance to low pressures immediately after assembly of flanges. Typically used as a form-in-placegasket on rigid flanged connections, e.g. gearbox and engine casings, etc. The thixotropic nature of LOCTITE 518 reduces the migration of liquid product after application to the substrate. LOCTITE 518 provides robust curing performance. It not only works on active metals (e.g. mild steel) but also on passive substrates such as aluminum with a low copper content. The product offers gap performance to 0,25 mm (0,01 in) and contamination tolerance. It cures in the presence of minor surface contaminations from various oils, such as cutting, lubrication, anti-corrosion and protection fluids and cleaners containing surfactants and corrosion inhibitors. Further information on the product can be obtained from your local technical department:
biuro@woronko-loctite.plSteps to achieve the best adhesive results:
1. For best performance bond surfaces should be clean and free from grease and other contaminants. Use
LOCTITE SF 7063
.
2. The product is designed for close fitting flanged parts with gaps up to 0,25 mm (0,01 in).
3. Apply manually as a continuous bead, a rolled film or by screen printing to one surface of the flanges. For gaps greater than 0,125mm (0,005 in) using a pen roller, a rolled film should be applied to both flange surfaces.
4. Low pressures (<0,05 MPa, <7 psi) may be used when testing to confirm a complete seal immediately after assembly and before curing.
5. Flanges should be tightened as soon as possible after assembly to avoid shimming.
Storage:
Store product in the unopened container in a dry location. Storage information may be indicated on the product container labeling.
Optimal Storage: 8 °C to 21 °C. Storage below 8 °C or greater than 28 °C can adversely affect product properties. Material removed from containers may be contaminated during use. Do not return product to the original container.
Henkel Corporation cannot assume responsibility for product which has been contaminated or stored under conditions other than those previously indicated.
Parameters:
Shear strength on steel : 7,5 N/mm²
Time to get full strength at the gap 0,05 mm (22 °C):
-Steel : 8 hours
-Aluminum : 24 hours
Time to obtain initial strength at the gap 0,05 mm (22 °C):
-Steel : 25 minutes
-Aluminum : 10 minutes
Working temperature : from -55 °C to +150 °C
Color : red
Full technical information can be found in the technical data sheet.