Teroson VR 40 BO - 1L EGFD (cleaner for Loctite PC 7350)
Teroson VR 40 BO - 1L EGFD (cleaner for Loctite PC 7350)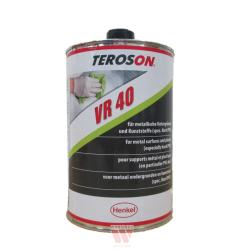 THE PRODUCT IS NOT AVAILABLE. IN ORDER TO SELECT A SUBSTITUTE, PLEASE CONTACT OUR OFFICE .


Product description:
TEROSON VR 40 a liquid cleaner and thinner based on ethyl acetate. Specific care should be exercised when cleaning painted surfaces (especially fresh paint). TEROSON VR 40 will attack painted surfaces when left on the surface for too long. Very short soaking times are recommended.

Application Areas:
TEROSON VR 40 is mainly used for diluting TEROSON-Transparent, Fluid and Universal Adhesive, when required and for removing excess material of these products. The product is recommended for surface preparation prior to bonding rubber substrates (SBR, NR and NBR). The product can also be used as cleaner for surface preparation prior to bonding and sealing on all substrates (specific care for painted surfaces, see above). Further information on the product can be obtained from the local technical department: biuro@woronko-loctite.pl

Directions for use:
Depending on the degree of contamination and size and shape of the parts to be cleaned, TEROSON VR 40 is applied and wiped off either by brush, cloth, cleaning fleece or similar. To avoid contamination of the product in the container, TEROSON VR 40 should be either poured onto the brush, cloth, etc. or poured into a different, suitable container. Dispense only the required amount. The container should be tightly closed immediately after dispensing. The cleaner should be allowed to entirely flash-off of the substrate surface (depending on ambient conditions ca. 2 to 10 minutes) before adhesive/sealant application. With the aid of clean, oil free compressed air, the flash-off time can be reduced. On porous substrates, a minimum flash-off time of 30 minutes should be observed.

Storage:

Frost sensitive no
Recommended storage temperature : 15 to 25 °C
Shelf life : 12 months

Parameters:

Colour : clear, transparent
Odour : fruity
Consistency : liquid
Density : 0.9 g/cm³

Full technical information can be found in the technical data sheet.