Teroson PU 8519 P - 25 ml (primer for window adhesive) / Terostat 8519 P
Teroson PU 8519 P - 25 ml (primer for window adhesive) / Terostat 8519 P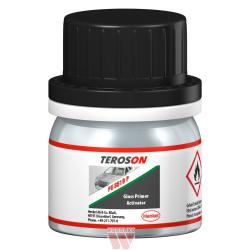 The product is available while stocks last. Will be replaced by Teroson BOND ALL-IN-ONE-PRIMERProduct description:
TEROSON PU 8519P is a thin liquid, solvent containing masking aid based on polyurethane. The product is notable for its excellent covering properties and its good UV-stability. It is free from chlorinated hydrocarbons and aromatic solvents. TEROSON PU 8519P is used e.g. for masking bus bars for heated windshields made of laminated glass. The primer/ activator is also suitable for promoting the adhesion of other PUR adhesives/sealants to glass, glass caramic, various plastics and metals (trials must be carried out prior to use). TEROSON PU 8519P can also be used as activator for PUR-coated glasses and for remaining beads. TEROSON PU 8519P is also suitable as corrosion protection for small flange damages. Further information on the product can be obtained from the local technical department:
biuro@woronko-loctite.pl
Directions for use:
Prior to use, shake the aluminum bottle vigorously by hand for at least 1 minute. A steel ball is provided in the bottle to assist mixing. This should move freely after three to four shakes. TEROSON PU 8519P may be applied thinly and evenly with felt applicator, sponge or brush. Ensure the wet film should be 0.025 mm. Let the primed surface evaporate for approx. 2 minutes before the direct glazing sealant is applied. A second application on the same point should be avoided, as partiallydried primer will be softened again which can adversely affect appearance. The optimal application temperature is between 0 to 30 °C. In exceptional cases the application can be done at higher temperatures. A higher reaction speed will be noticed.
Storage:
Frost sensitive : no
Recommended storage temperature : 5 to 25 °C
Shelf life up to : 18 months depending on packaging

Parameters:

Colour : black
Odour : smells of solvent
Consistency : thin liquid
Density : 0.98 g/cm³
Solids : 35 %
Drying time (1C adhesive) : > 2 min.
Drying time (2C adhesive) : > 15 min.
Primer activity on pre-coatings and remaining beads : up to 60 min. after application
Open time : max.8 hr(s)
In service temperature range : -40 to 90 °C short exposure (up to 3 h) 120 °C

Full technical information can be found in the technical data sheet