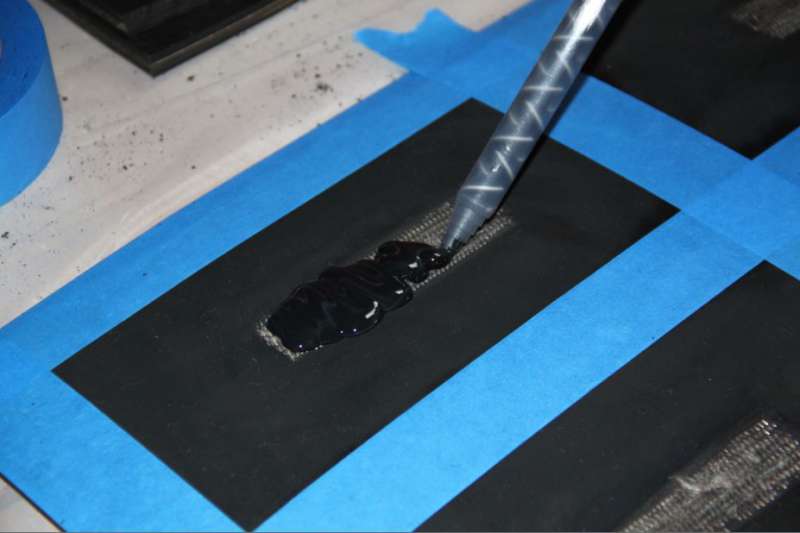 THE PRODUCT IS NOT AVAILABLE. PLEASE CONTACT OUR OFFICE TO SELECT A SUBSTITUTE.Product description:
LOCTITE PC 7350 is a 100 % solid, room temperature curing 2k polyurethane compound which cures to a tough, resilient adhesive. This product is an adhesive, sealant, and repair compound that offers an excellent balance of self-leveling and fast cure. This makes this product an excellent choice for on-site repairs, such as conveyor belts and other rubber parts. Typical applications included, but are not limited to, repairing or rebuilding liners in mills, pumps, feeder bowls, hoppers, chutes, and repairing cast urethane screens and liners. Further information on the product can be obtained from the local technical department:
biuro@woronko-loctite.plSteps to achieve the best adhesive results:Surface Preparation
1. For best performance, bond surfaces should be clean and free from dirt, grease, and other contaminants.
2. Cut away loose and damages pieces of the belt surfaces ensuring not to cut the reinforcement fabric.
3. Abrade the repair area with an abrasive wheel or wire wheel to roughen the bond surface. Avoid overheating the belt and melting the rubber during grinding.
4. Aggressively clean the prepared surfaces with Loctite solvent based cleaner (i.e. SF 8220 Flex Cleaner or Teroson D) and allow to dry.
5. For maximum performance use
Loctite Fixmaster Etching Agent
and allow to dry for 30 minutes at 25°C (77F) or 60 minutes at 10°C (50F).
Mixing
1. Cartridges: Insert the cartridge into the application gun and start the plunger into the cylinders using light pressure on the trigger. Next, remove the cartridge cap and expel a small amount of adhesive to be sure both sides are flowing evenly and freely. Attach the static mixing nozzle and begin dispensing adhesive.
2. Purge and dispose of the first 3 - 5 cm from the end of the mix nozzle, as it may not be sufficiently mixed.
3. Work quickly as material will begin to cure in static mixer.
4. Cans: Pour the hardener into the resin and mix thoroughly until uniform in color and consistency (1 - 2 )minutes). Once mixed, pour out of can onto repair surface to maximize work life.
Application Method
1. Apply the urethane onto the substrate and work in with plastic spatula to allow maximum surface contact and adhesion.
2. Cartridges: It is not necessary to use all the urethane in the cartridge in one application. Leave the static mixer on the cartridge when the application is complete. The mixer serves as a seal and should be discarded and replace with fresh mixer for the next application.
Storage:
Store product in the unopened container in a dry location. Storage information may be indicated on the product container labeling.Optimal Storage: 8 °C to 21 °C. Storage below 8 °C or greater than 28 °C can adversely affect product properties. Material removed from containers may be contaminated during use. Do not return product to the original container. Henkel Corporation cannot assume responsibility for product which has been contaminated or stored under conditions other than those previously indicated.
Parameters:
Package type and size: 400 ml cartridge
Color: black
Coverage at 6 mm depth with 400 ml cartridges : 570 cm²
Open time at 23 °C: 5 minutes
Functional cure in 23 °C : 2 hours
Mixing volumes by volume (resin: hardener): 1:1
Higher temperatures shorten time and lower temperatures lengthen it.


Full technical information can be found in the technical data sheet.