Loctite NS 5550 BR- 1k g (high temperature sealant, to 815 °C and 340 bar)
Loctite NS 5550 BR- 1k g (high temperature sealant, to 815 °C and 340 bar)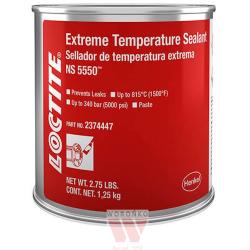 THE PRODUCT IS NOT AVAILABLE. PLEASE CONTACT OUR OFFICE TO SELECT A SUBSTITUTE.Product description:
LOCTITE NS 5550 is a thermal reactive fibrous paste sealing compound that is used in high temperature and high pressure applications. In the presence of heat, LOCTITE NS 5550 will cure to form a seal. LOCTITE NS 5550 will not permanently join the flanges together, it will not interfere with future repairs of metal-to-metal joints. This product is typically used at temperatures up to 815°C (1,500°F) and seals up to 345 bar (5,000 psi) with correctly designed flanges. Further information on the product can be obtained from your local technical department:
biuro@woronko-loctite.plSteps to achieve the best adhesive results:
1. For best results, clean all surface (external and internal) with a
LOCTITE SF 7063
cleaning solvent and allow to dry.
2. Apply an even coating across the entire surface to be sealed with a putty knife .
3. Product may be used with existing gaskets as a dressing. In this case apply a thin coat to both sides of the gasket as well as the matting surfaces.
4. Normal bolting and torque procedures should be followed when assembling the joint, follow manufacturer's specifications where required.
5. Product will cure in service with heat and requires a minimum of 150°C to reach full cure. Time varies based on temperature as noted in profile.
6. High pressure applications or pressure testing at ambient require running heat without pressure or pre-curing with an external heat source.
7. Immediately after use clean tools with suitable cleaner, e.g.
LOCTITE SF 7070
or a solvent such as acetone or isopropyl alcohol. Once cured, the material can only be removed mechanically.
Storage:
The product is classified as combustible and must be stored in an appropriate manner in compliance with relevant regulations. Do not store near oxidizing agents or combustible materials. Store product in the unopened container in a dry location. Storage information may also be indicated on the product container labelling.
Optimal Storage: 8 °C to 21 °C. Storage below 8 °C or greater than 28 °C can adversely affect product properties.
Material removed from containers may be contaminated during use. Do not return product to the original container. Henkel cannot assume responsibility for product which has been contaminated or stored under conditions other than those previously indicated.
Parameters:
Chemical type: thermosetting resin
Appearance: brown paste
Cure type: thermal curing
Density at 25 ° C, g / ml: 1.330
Viscosity, mPa · s (cP): 1.910,000
Lubricity, K-Factor 1.25 inch B-7 bolts: 0.13
Full technical information can be found in the technical sheet of the product.