Loctite 4860 - 20 g (instant adhesive, elastic)
Loctite 4860 - 20 g (instant adhesive, elastic)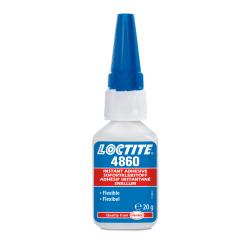 Product description:
LOCTITE 4860 is designed for the assembly of difficult to bond materials and is specifically formulated to provide flexible bondlines. The product provides rapid bonding of a wide range of materials, including metals, plastics and elastomers. When used to bond rubbers, for example, this product maintains the full compressibility of the joint. LOCTITE 4860 is particularly suited for bonding porous or absorbent materials such as paper, leather and fabrics. Further information on the product can be obtained from your local technical department:
biuro@woronko-loctite.plSteps to achieve the best adhesive results:
1. For best performance bond surfaces should be clean and free from grease. Use
LOCTITE SF 7063
.
2. This product performs best in thin bond gaps (0,05 mm).
3. Excess adhesive can be dissolved with Loctite cleanup solvents, nitromethane or acetone.
Storage:
Store product in the unopened container in a dry location. Storage information may be indicated on the product container labeling.
Optimal Storage: 2 °C to 8 °C. Storage below 2 °C or greater than 8 °C can adversely affect product properties.
Material removed from containers may be contaminated during use. Do not return product to the original container.
Henkel Corporation cannot assume responsibility for product which has been contaminated or stored under conditions other than those previously indicated.
Parameters:
Cure speed on diffrent substrate:
Steel (shot-blasted) : 7 to 15 s
Steel (degreased) : 20 to 25 s
Aluminum (sand-blasted) : 10 to 20 s
Aluminum (degreased) : 7 to 15 s
Zinc dichromate : 10 to 15 s
Nitrile rubber : 10 to 15 s
ABS : 3 to 5 s
PCV : 3 to 5 s
Polycarbonate : 5 to 10 s
Epoxy FR4 : 3 to 7 s
Leather : 7 to 15 s
Paper : 1 to 3 s
Wood (teak) : 50 to 90 s
Shear strength after 7 days (temperature 22 °C):
Steel (shot-blasted) : 14 N/mm²
Aluminum (sand-blasted) : 10 N/mm²
Zinc dichromate : 9 N/mm²
ABS : 7 N/mm²
PCV : 5 N/mm²
Polycarbonate : 7 N/mm²
Full technical information can be found in the technical data sheet.